Take On Cutting Edge TRX Training With Our Group Fitness Classes
This is not your average Group Fitness Class. Far from it, in fact. At Marti Martial Arts Academy, we rely on the innovative TRX training system to give you a total body workout like never before.
You'll build muscles across every portion of your body and you'll feel great in no time with improved mobility and flexibility with these incredible Group Fitness Classes for the Bedford Hills, Bedford, and Mt. Kisco areas!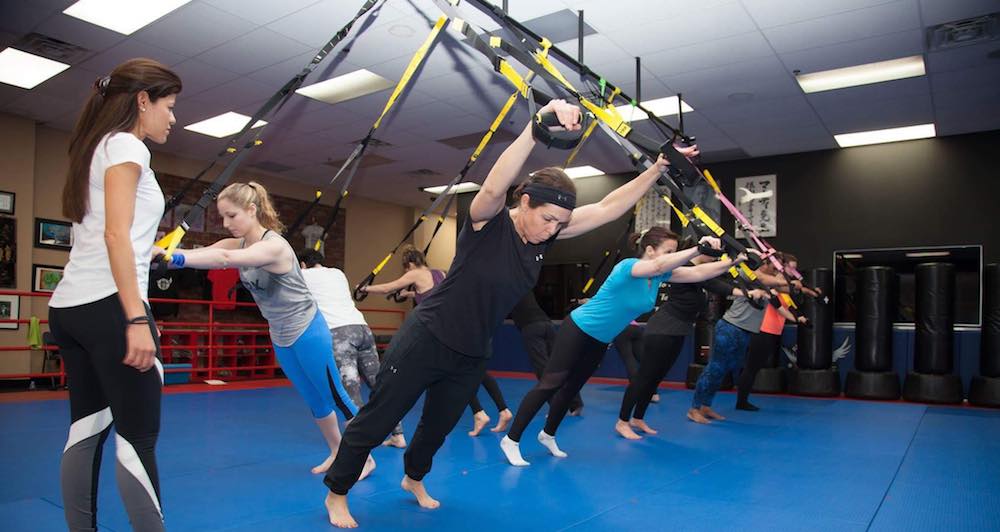 What Makes TRX Group Fitness So Amazing?
It's amazing because it works. Unlike traditional weightlifting or cardio training, our TRX Group Fitness Classes force you to build stabalizing muscles like never before. Becuase the TRX bands balance only when your body is balanced, you'll be constantly fighting the smallest weight differences in your stance to stay stable and in control.
After each and every TRX Group Fitness Bootcamp, you'll walk away feeling muscles you never knew existed.
Benefits include:
Lean, toned muscle groups
More practical strength
A tighter more stable core
Constant improvement and progress
PLUS The Group Fitness Bootcamps Are Built On High Energy
Don't worry about pumping yourself up before a workout. Our Group Fitness classes do that for you! That's becuase you'll be training alongside a group of hard working athletes who will push and support you through each and every workout.
Our TRX training is second to none because we use these bootcamps as a group effort at better fitness and strength.
You'll walk away with:
Improved confidence
Boosted energy levels
An incredible sense of accomplishment
And a fitness level like never before
Are You Ready To Get Started? Join Us Today For These Cutting Edge Group Fitness Classes!
Don't wait until it's too late. Get started today with the bext TRX Group Fitness Classes in Bedford Hills. We'll help you get in great shape with a cutting-edge training program and enjoy every minute of it alongside the hardworking team at Marti Martial Arts Academy.
Just fill out the short form on your screen now to get started. We'll reach out soon to answer all of your questions!